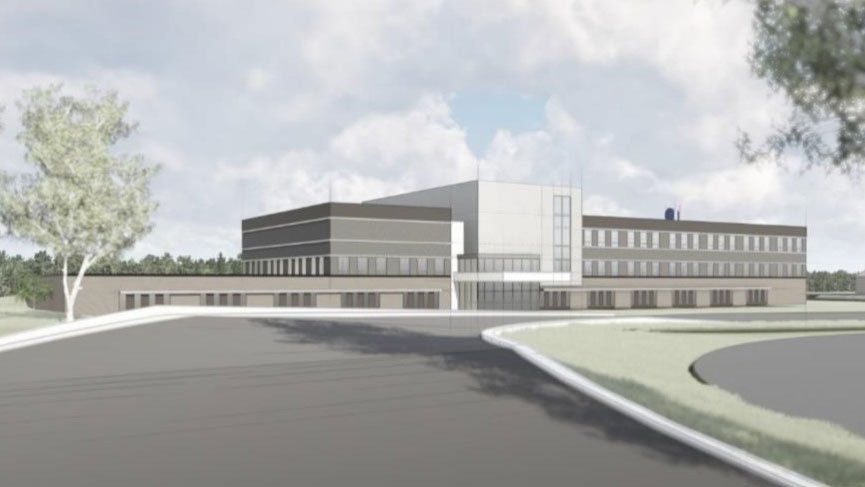 News Release
March 28, 2019
For Immediate Release
For more information, contact:
IHA
Amy Middleton
734.327.0877
Amy_Middleton@IHAcares.com
Schoolcraft College, Integrated Healthcare Associates and Saint Joseph Mercy Health System to collaborate on new health center on Schoolcraft campus in Livonia
LIVONIA, Mich. (March 28, 2019) – Schoolcraft College, Integrated Healthcare Associates (IHA) and Saint Joseph Mercy Health System (SJMHS) will collaborate to build a new health center on the Schoolcraft campus under a plan approved by the Schoolcraft College Board of Trustees and Trinity Health, the parent organization of IHA and SJMHS.
"This health center will bring leading physicians and health services to the campus as well as create educational opportunities that will enable students to fill needed jobs in the health care industry," said Rob Casalou, president and CEO, Mercy Health and Saint Joseph Mercy Health System. "In addition, this new site is part of our larger plan to improve access to ambulatory care services in the communities we serve across Michigan."
The first phase will include constructing a $31 million, 80,000- square- foot building located on the northeast quadrant of the campus, adjacent to I-275 and just north of the St. Joe's Sports Dome. Groundbreaking for the first phase will take place Fall 2019, and the space will include primary, specialty and urgent care as well as ancillary and advanced imaging services including MRI, ultrasound and mammography. A subsequent phase with additional clinical programs and services is in the planning stages.
The new health center will support Schoolcraft College's Healthcare and Health Sciences programs with hands-on educational opportunities for students to prepare them for in-demand jobs in the growing health care fields. Schoolcraft College currently has majors and programs in nursing, pharmacy, health information technology and medical assisting among the many choices. The college also plans to launch an advanced imaging program for radiation technology students to coincide with the opening of the new medical facility.
"This partnership is an extension of our current excellent relationship with Saint Joseph Mercy Health System and Integrated Healthcare Associates and will help provide outstanding medical services for our students and the Schoolcraft community," said Schoolcraft College President Conway A. Jeffress. "It also benefits the students in our Healthcare and Health Sciences programs by providing them with practical experience opportunities that will prepare them for a career in the healthcare field."
The new facility reflects an expansion of the strong collaboration between SJMHS, IHA and Schoolcraft College, which includes SJMHS' support of the St. Joe's Sports Dome on the Schoolcraft College campus. SJMHS' MercyElite Sports Performance program operates in the dome in partnership with Schoolcraft College's SC Elite Program, providing athletic training, physical therapy, and health and nutritional services to youth and adults in the community.
IHA recently assumed responsibility for the urgent care currently operating on the Schoolcraft College campus. In conjunction with this change, IHA established an internal and family medicine practice within the same building to offer the community additional access to primary care. These services will relocate to the new health center in the future.
"IHA is pleased to join with our colleagues at Saint Joseph Mercy Health System to further expand our partnership with Schoolcraft College. It is an honor to be part of such an innovative collaboration that is focused on bringing a patient-centered model of health care to not only Schoolcraft College, but also to the surrounding communities," said IHA CEO Mark LePage, M.D. "Whether it's accessing primary care services through a real-time online scheduling tool or 'saving your spot' in line at the urgent care, this is how health care should be designed – around the needs of the patient."
#####
About Schoolcraft College
Schoolcraft College is a public community college, offering classes at and online at www.schoolcraft.edu. The college enrolls more than 30,000 students each year in both credit programs and continuing education and professional development courses. The college has 70 different academic majors and programs leading to a skills certificate, certificate, associate degree, or post-associate certificate. Students can also take advantage of bachelor degree-level courses and programs offered by several university partners onsite or transfer credits to other four-year institutions saving time and money in pursuit of a bachelor's degree.
About IHA
Established in 1994 and celebrating the 25th anniversary of its founding in 2019, IHA is one of the best and largest multi-specialty groups in Michigan delivering more than one million patient visits each year. IHA employs more than 2,400 staff, including more than 700 providers consisting of physicians, nurse practitioners, physician assistants and midwives in approximately 74 practice locations across Southeast Michigan. Recognized as Metro Detroit's Top Physician Group by Consumer Reports magazine. IHA offers patients extended office hours and urgent care services, along with online patient diagnosis, treatment and appointment access tools. IHA is a wholly-owned subsidiary of Saint Joseph Mercy Health System and a member of Trinity Health. For more information about IHA, visit www.ihacares.com.
About Saint Joseph Mercy Health System
Saint Joseph Mercy Health System (SJMHS) is a health care organization serving seven counties in southeast Michigan including Livingston, Washtenaw, Wayne, Oakland, Macomb, Jackson, and Lenawee. It includes 537-bed St. Joseph Mercy Ann Arbor, 443-bed St. Joseph Mercy Oakland in Pontiac, 304-bed St. Mary Mercy Livonia, 136-bed St. Joseph Mercy Livingston in Howell, and 133-bed St. Joseph Mercy Chelsea. Combined, the five hospitals are licensed for 1,553 beds, have five outpatient health centers, six urgent care facilities, more than 25 specialty centers; employ more than 15,300 individuals and have a medical staff of nearly 2,700 physicians. SJMHS has annual operating revenues of about $2 billion and returns about $115 million to its communities annually through charity care and community benefit programs.
SJMHS is a member of Trinity Health, a leading Catholic health care system based in Livonia, Mich. Trinity Health operates in 22 states, employs about 133,000 colleagues, has annual operating revenues of $17.6 billion and assets of about $24.7 billion. Additionally, the organization returns almost $1.1 billion to its communities annually in the form of charity care and other community benefit programs.
For more information on health services offered at Saint Joseph Mercy Health System, please visit www.stjoeshealth.org.
Contacts:
IHA
Amy Middleton
734-327-0877
Schoolcraft College
Van Nguyen
734-462-4591
Saint Joseph Mercy Health System
Bobby Maldonado
248-858-6662