PEVAR (Percutaneous Endovascular Aneurysm Repair) is an FDA-approved, minimally invasive procedure for patients with an abdominal aortic aneurysm. An aortic aneurysm is an abnormal enlargement in the wall of the aorta, which is the largest artery in the human body. The aorta supplies oxygen-rich blood from the heart, down through the chest and abdomen area before dividing into the vessels in the legs.
An aneurysm can happen to anyone, at any time, however, your risk increases with age, tobacco use and a family history of heart disease or aneurysms. In general, if you're an older male, who smokes, has high blood pressure and a family history of hypertension, you're at a higher risk.
Previously, the only surgical options to fix an abdominal aortic aneurysm were Open Surgical Repair (OPEN) and Endovascular Aneurysm Repair (EVAR). OPEN repair involves an incision in the abdomen directly over the aortic aneurysm, usually from below the breastbone to just below the navel. A long cylinder-like tube called a graft is used to repair the aneurysm. This operation is highly invasive, has a higher short-term and intermediate-term mortality rate, longer hospital stays, longer at-home recovery times, and is not suitable for high-risk patients.
EVAR entails making small incisions in the groin area, above the femoral arteries, uses special endovascular instruments to insert a stent-graft through the femoral artery and into the aneurysm. EVAR is minimally invasive, with lower mortality rates, shorter hospital stays, shorter at-home recovery time, and is safer for high-risk patients.
PEVAR expands upon the minimally invasive concept of EVAR, requiring only small nicks in the skin, meaning there is less blood loss and less pain. It reduces groin complications, hospital time and recovery time, meaning the patient can return to their normal activities much quicker than they could with OPEN or EVAR. It also requires less operating time, making it a more cost effective and less invasive surgical option for patients.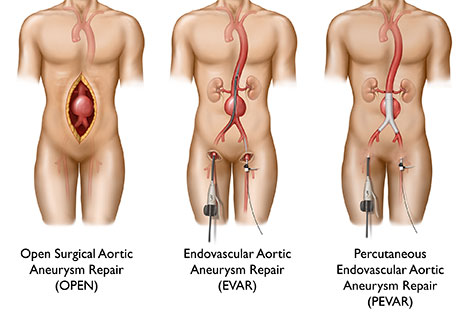 IHA Vascular & Endovascular Specialists are the only certified physicians who can perform the PEVAR procedure at St. Joseph Mercy – Ann Arbor. Personally, I have been performing the surgery for the past year, and it is a routine procedure for me and the other providers here. If you're a good candidate, PEVAR is a great option that allows the patient very quick recovery time and minimal pain, while still gaining the benefits of a fixed aneurysm.
For more information about PEVAR, please call 734.712.8150.