Fifteen minutes. According to the Center for Disease Control, that's all it takes for the sun's ultraviolet (UV) rays to damage your skin. When you're on beach or pool time, 15 minutes goes by quickly. It feels great to soak up those rays, but they are harming your skin and are putting you at risk for long-term skin damage and worse, skin cancer. Before you head out into the sun for the day, take some time and precautions to keep yourself and your family safe all summer long, and you'll be golden for some fun in the sun!
USE SUNSCREEN
It's one of the easiest ways to prevent skin cancer. Look for a sunscreen with broad spectrum protection against both UVA and UVB, an SPF of at least 30, and water resistant. When applying sunscreen, more is more. You want to be sure to get a thick layer of sunscreen on your skin in order for the SPF to do its job. For an average size person, remember the teaspoon rule, and adjust for all ages and body types:1 teaspoon to the face/neck/scalp1 teaspoon for each arm1 teaspoon to the chest and abdomen1 teaspoon to the back2 teaspoons for each leg
Sunblock lotions are the preferred choice, but if you are using a spray sunscreen, apply outside by holding the bottle close to the skin and spray on each area for approximately 6 seconds, or until the sunscreen is visible on the skin (typically, when it looks white). Then, rub it in. Don't apply spray sunscreen directly to the face. Instead, spray generously into your hand and apply to your face as you would a lotion. Don't forget to apply a lip balm with an SPF of 30, too!
Sunscreen will wear off throughout the day. Be sure to reapply every two hours and following exposure to water or sweat.
If you're avoiding sunscreen because you don't like how it feels on your skin or you had an allergic reaction, try another type or brand. There are a variety of choices by a variety of brands, so if you aren't happy with one, try another until you find one that works with your skin. You may want to make an appointment with your primary care provider or dermatologist to discuss your individual needs. After all, the best sunscreen is the one you will wear!
AVOID EXPOSURE BETWEEN 10 AM AND 4 PM
Have you heard of the shadow rule? If your shadow is shorten than you are in real life, the sun's rays are strong. During this time, you should avoid exposure or follow precautions to protect yourself and your family. For our region in the Midwest, the sun is most intense from 10:00 a.m. to 4:00 p.m., so you'll want to be the most vigilante in protecting your skin during this time.
USE SUNGLASSES
Your eyes will absorb those harmful rays much like your skin does. Look for sunglasses that block and absorb UVA and UVB light. The lenses should fit close to the skin and be large enough to cover your eyes and the surrounding areas. The bigger the better! Polarized lenses will help eliminate glare, which is great for driving or days in the water or snow.
DRINK MORE WATER
When you're sweating, you are losing water. Drink plenty of water throughout the day, especially in hot weather to keep dehydration at bay. Don't wait until you feel thirsty. Also, look for signs of heat exhaustion such as; feeling overheated, tired or weak. Nausea, headaches and dizziness are also indications that it's time to get out of the sun, cool down and drink some water. Heat stroke is a more serious condition. If you or someone in your family stops sweating, has red and/or hot skin, a high temperature, confusion or is suddenly uncoordinated, seek medical attention right away.
GO LONG!: WEAR PROTECTIVE CLOTHING
Long-sleeved shirts and long pants provide an extra layer of protection while spending time out in the sun. Look for clothing made with tightly woven fabrics. Those linen pants aren't going to protect you from the sun, so be sure to wear sunscreen underneath. When playing the water, look for bathing suits that feature a sun shirt, especially for little ones.
HATS OFF ON!: WEAR A BROAD RIMMED HAT
Wearing a hat with a full brim is a great way to protect the scalp, ears, face and neck from exposure to the sun's UV rays. Tightly woven fabric is the key to a good hat, straw hats are cute, but don't provide the protection you need. When purchasing sun hats for the family, be sure to pick the correct sizes for each person. Kids will pull off a hat that slips down over their eyes.Seek the shade & avoid direct sunlight
Trees or shelters block the sun's UV rays and provide ultimate protection. Seek out these spaces when spending time outdoors to help protect yourself and your family from painful sunburns and help reduce the risk of skin cancer. When you can't find shade, make it! Invest in a beach umbrella or tent to shield your family from the sunlight.
BE CAUTIOUS OF REFLECTIONS
Your exposure to the sun's rays increases when the sun shines onto and reflects off of bright surfaces, like water, sand or house paint, for example. When spending time near a reflective surface, ensure everyone is sporting sunglasses and sunscreen or protective clothing are being used consistently.
TANNING
Don't. Tan skin is damaged skin and the impact can last or even shorten a lifetime. Tanning should not be part of a beauty regiment at any point in a person's life.
PROTECTION 365 DAYS
Skin cancer prevention is not seasonal. Sure, we wear less clothing and spend more time outside in the sun's rays during the summer months, but protection from those rays is just as important during the winter months. UV rays reflect off snow just as they do off of sand, water and concrete. Apply sunscreen to the face and any other exposed skin, wear sunglasses and lip balm every day. When it comes to sun safety, there's a lot of information to soak in. Download this handy checklist and keep it in your beach bag to help ensure you and your family are covered for summer skin protection.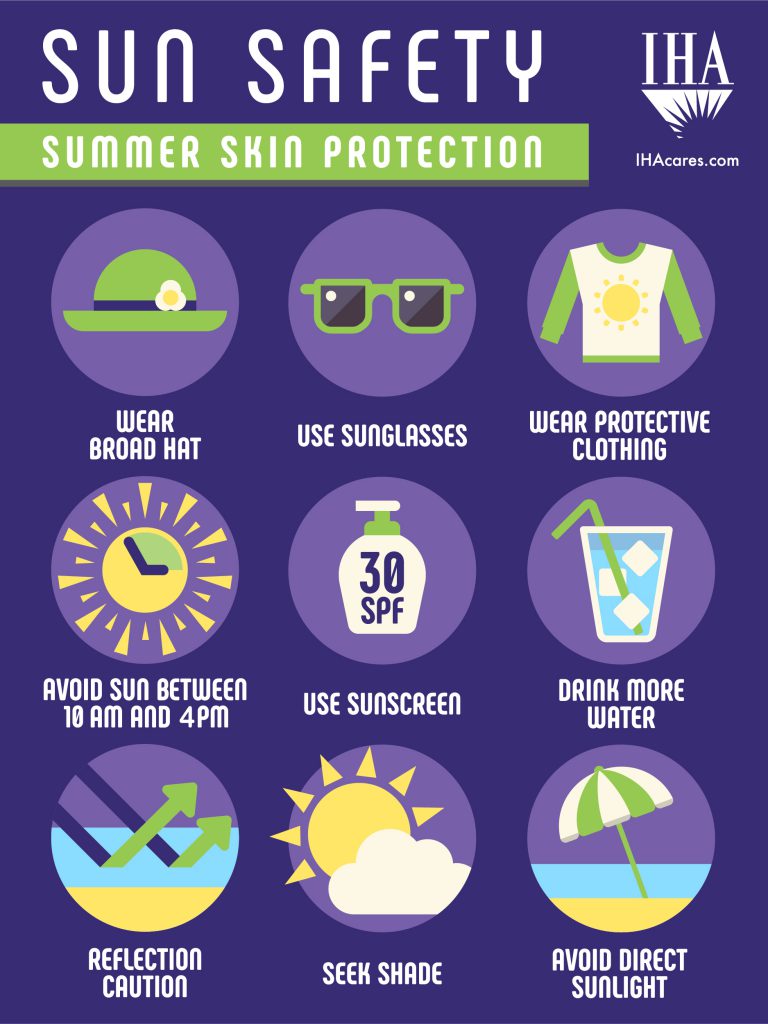 For questions concerning dangers to your skin from the sun, consult with your dermatologist.