Youth sports are back in Michigan…with restrictions
One of the many great disappointments during the pandemic was the loss of sports. From preschool t-ball to professional sports, being active and on a team is such an important part of so many lives. And those that don't participate, spectate! The rules of the game have changed several times since the beginning of the pandemic, most recently with the resumption of contact sports for Michigan youth.
Beginning February 8th, in-person practice and competitions for sports leagues are now allowed…with some restrictions. For contact sports to resume, masks must be worn at all times during practices and competition. If masks can't be worn during play, participants must be regularly tested for COVID-19, consistent with MDHHS's Testing and Additional Mitigation Measures for Athletic Practice and Play guidance according to the state.
If your or your child's sport of choice is non-contact and played outdoors where the athletes can maintain a social distance, masks will not be required. For all other sports, indoor or outdoor, masks or testing protocol will be required.
Following the guidance outlined by the state is crucial to stop the spread of the virus among athletes and spectators. There will be less people in the stands – up to 250 people are allowed in stadiums that seat fewer than 10,000 people, and up to 500 people are allowed at venues that seat more than 10,000 people, and those that do attend will also need to wear a mask at all times.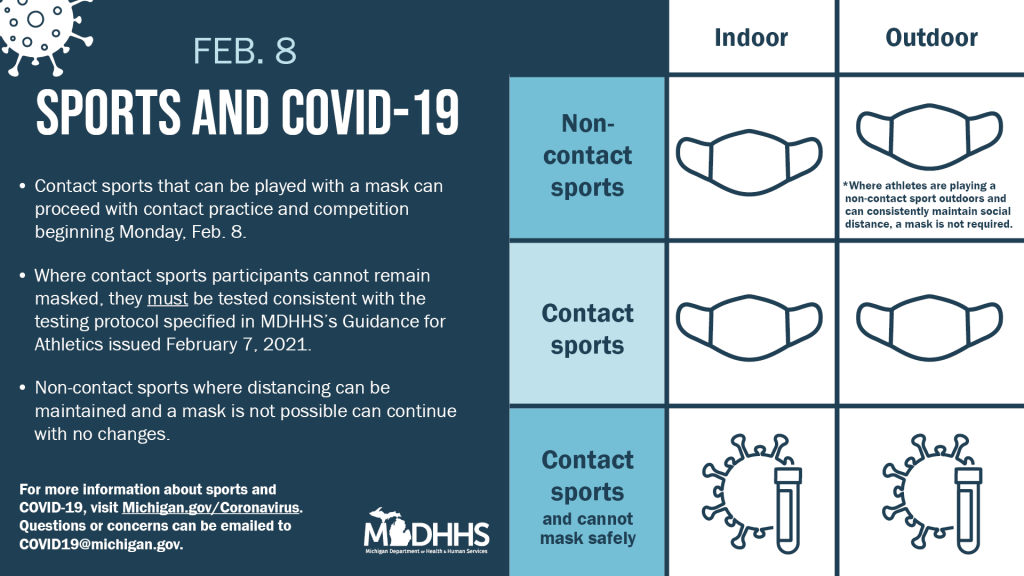 General Mitigation Measures for Athletics from the state of Michigan:
Wear a face mask at all times in practice and competition.*
Wash hands frequently and cover coughs and sneezes.
Use separate equipment as much as possible. Frequently clean and disinfect any shared equipment and surfaces.
See the MDHHS Guidance for Athletics for more recommendations to mitigate risk and prevent the spread of COVID-19 in sports.
*Exceptions are for athletes in contact sports where face masks pose a safety hazard. In these situations, additional mitigation measures, including testing before unmasked play, are required. Please see the MDHHS Guidance for Athletics for more information
For more details on the how COVID-19 impacts youth sports in Michigan visit: http://bit.ly/3s9XxV5