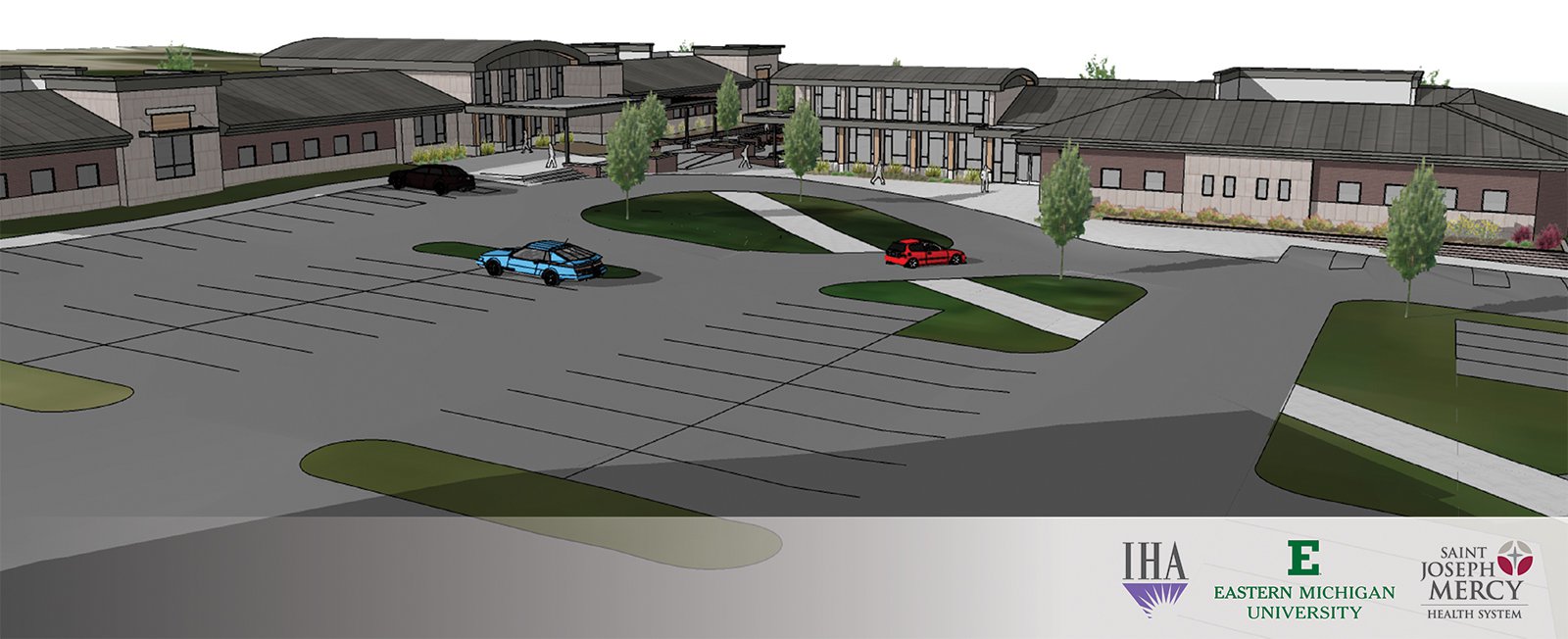 News Release
February 9, 2018
For Immediate Release
For more information, contact:
IHA
Amy Middleton
734.327.0877
Amy_Middleton@IHAcares.com
Eastern Michigan University, Saint Joseph Mercy Health System, Integrated Healthcare Associates to collaborate on new health center on EMU campus
Primary and urgent care facility will serve University's students, faculty and staff, as well as greater community
YPSILANTI, MI – (February 9, 2018) – Eastern Michigan University (EMU), Saint Joseph Mercy Health System (SJMHS) and Integrated Healthcare Associates (IHA) will collaborate on a new health center on the EMU campus under a plan approved Feb. 9, 2018 by the EMU Board of Regents.
The health center will be located on the northwest end of campus on open land off Huron River Drive and Oakwood Street, near the present headquarters of the EMU Department of Public Safety. The center will offer:
Comprehensive primary care services
7-day-a-week urgent care services, including x-ray
Electronic Medical Record capabilities, including a 24/7 patient portal
Online appointment scheduling
A "Save your Spot" tool to manage urgent care arrival and wait times
Onsite pharmacy staffed by SJMHS
The new health center will incorporate the University's existing Counseling and Psychological Services (CAPS) and other services presently located in Snow Health Center, along with the EMU Psychology Clinic, located on Cross Street, and will also support the University's College of Health and Human Services programs with hands-on educational opportunities for students and faculty. The new center is tentatively set to open in summer 2019.
The collaboration will include the construction and operation of a new 25,700 square foot facility, with the construction costs of nearly $6.6 million to be funded by IHA/SJMHS. The University will fund the construction of a $1.8 million roadway to the facility. Eastern will occupy slightly more than half the facility, 14,500 feet, and IHA will occupy 11,200 square feet.
The new facility reflects an expansion of the strong collaboration between St. Joseph Mercy Ann Arbor hospital and Eastern, which includes formal affiliation agreements for nearly 20 health-related programs, including the Physician Assistant Program at Eastern, which was launched in spring 2014.
The collaboration also includes a simulation center and anatomy lab, residency training at the student health center, exercise science, inter-professional patient care and education, and large-scale emergency preparedness exercises.
"This is special moment in terms of community and campus health care," said EMU President James Smith. "This partnership, with an established, world-class health care provider and a top-tier physicians' group, will provide a modern medical environment able to meet the primary and urgent care needs of students, faculty, staff, and the community.
"This new facility is conveniently located, with excellent access to roads and parking," added Smith. "It addresses a major priority raised by many on our campus for improved health care, including our student government leaders, and truly broadens our ability to serve the needs and welfare of our students, faculty, staff and community."
"We are so pleased to come together as three major area organizations to create collaborations that work to each of our strengths," said David Brooks, president of St. Joseph Mercy Ann Arbor. "This health center will bring leading physicians and needed health services to both the campus and Ypsilanti residents. We look forward to continuing to work closely together to develop innovative programs and initiatives that address the needs of the local community."
"IHA is honored to join with St. Joe's and Eastern Michigan University to bring our high-quality and patient-centered model of health care to the students, faculty and staff at EMU as well as the surrounding communities," said IHA CEO Mark LePage, M.D. "Whether it's accessing primary care services through a real-time online scheduling tool or "saving your spot" in line at the urgent care, this will truly be a state-of-the-art health care facility."
The existing Snow Health Center area on Eastern's campus will be evaluated for other potential uses.
#####
About Eastern Michigan University
Founded in 1849, Eastern is the second oldest university in Michigan. It currently serves 20,000 students pursuing undergraduate, graduate, specialist, doctoral and certificate degrees in the arts, sciences and professions. In all, more than 300 majors, minors and concentrations are delivered through the University's Colleges of Arts and Sciences; Business; Education; Health and Human Services; Technology, and its graduate school. EMU is regularly recognized by national publications for its excellence, diversity, and commitment to applied education. For more information about Eastern Michigan University, emich.edu.
About IHA
IHA is one of the best and largest multi-specialty groups in Michigan. IHA employs nearly 2,200 staff, which includes more than 650 providers consisting of: physicians, nurse practitioners, physician assistants and midwives in approximately 70 practice locations across Southeast Michigan. IHA provides high-quality medical care and excellent service to nearly 470,000 active patients. Recognized as Metro Detroit's Top Physician Group by Consumer Reports magazine, IHA also ranks in the top quartile for patient satisfaction nationally. Offering extended office hours and urgent care services, along with online patient diagnosis, treatment and appointment access tools. IHA demonstrates that it cares by bringing safe, high quality, comprehensive and affordable care to its patients. For more information about IHA, visit www.ihacares.com.
About Saint Joseph Mercy Health System
Saint Joseph Mercy Health System (SJMHS) is a health care organization serving seven counties in southeast Michigan including Livingston, Washtenaw, Wayne, Oakland, Macomb, Jackson, and Lenawee. It includes 537-bed St. Joseph Mercy Ann Arbor, 443-bed St. Joseph Mercy Oakland in Pontiac, 304-bed St. Mary Mercy Livonia, 136-bed St. Joseph Mercy Livingston in Howell, and 133-bed St. Joseph Mercy Chelsea. Combined, the five hospitals are licensed for 1,553 beds, have five outpatient health centers, six urgent care facilities, more than 25 specialty centers; employ more than 15,300 individuals and have a medical staff of nearly 2,700 physicians. SJMHS has annual operating revenues of about $2 billion and returns about $120 million to its communities annually through charity care and community benefit programs.
SJMHS is a member of Trinity Health, a leading Catholic health care system based in Livonia, Mich. Trinity Health operates in 22 states, employs about 131,000 colleagues, has annual operating revenues of $17.6 billion and assets of about $24.6 billion. Additionally, the organization returns almost $1 billion to its communities annually in the form of charity care and other community benefit programs. For more information on health services offered at Saint Joseph Mercy Health System, please visit stjoeshealth.org.
Eastern Michigan University
Geoffrey S. Larcom
734.487.4401, 734.417.9658 cell
glarcom@emich.edu
IHA
Amy Middleton
734.327.0877
Amy_Middleton@IHAcares.com
Saint Joseph Mercy Health System
Laura Blodgett
734.712.4536
Laura.Blodgett@stjoeshealth.org