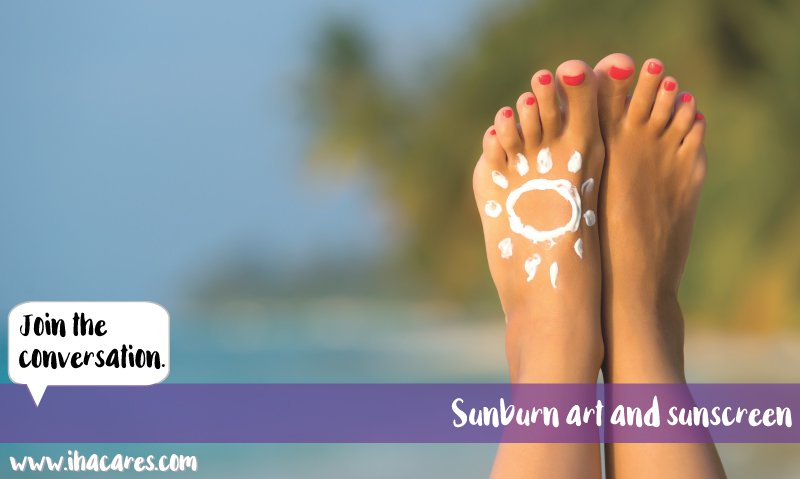 Recently social media has been filled with trending "Sunburn Art" photos – people strategically applying sunscreen in extravagant patterns then getting intensely sunburned to display the masterpiece. Although it may be tempting to show off artistic talents for the Instagram likes and retweets, sunburns can have long term consequences on your skin health, including risk for skin cancer and premature aging. As you enjoy the outdoors this summer here are a few tips for sunscreen use:
What kind of sunscreen should I buy? Do I really need the SPF 100+? The best option is to find one that you are willing to wear regularly! The American Academy of Dermatology recommends that sunscreen should be broad spectrum with protection against both UVA and UVB. This should be at least SPF 30 and water resistant. Many dermatologists recommend a higher SPF, even SPF 100. This is due to recent research showing that many people do not apply sunscreen as thick as how the SPF number was established. Often, people use as little as 25-50%! Using a higher SPF may partially compensate for putting on too little. Using a moisturizer containing sunscreen on exposed skin can be nice for daily use when you know you won't have extended time outside. Usually the SPF in makeup is an added bonus but is not applied thick enough to rely on.
What is the safest way to apply sunscreen? It is best to apply sunscreen 15-20 minutes before going outdoors. It takes this long to fully absorb. Make sure to apply it to all exposed skin, getting help for hard to reach places like the middle of the back. To get the true SPF value on the bottle, sunscreen amount should be based on the "teaspoon rule" – 1 teaspoon to the face/neck/scalp, 1 teaspoon for each arm, 1 teaspoon to the chest and abdomen, 1 teaspoon to the back, and 2 teaspoons for each leg. Please be sure to re-apply every two hours while outside because the sunscreen will lose effectiveness over time. The re-application rule is also important after swimming or heavy sweating. Many people who wore sunscreen at the beginning of long day outside get burned because of not reapplying. Keep up the good work!
But I hate the feel and smell of sunscreen. What are my alternatives? Physical blockage from the sun by clothing is an alternative to sunscreen. There are many marketplace options for UPF (ultraviolet protection factor) clothing with UVA and UVB protection based on weave and thickness of the fabric. This should be taken with caution because bleaching or stretching the fabric can decrease the effectiveness. A broad brim hat can be helpful but this has been documented to only show SPF protection less than 10 (and a baseball hat has a SPF 1.5 for the nose at best!). These are best used in combination with other forms of sun protection.
Do the sunscreen recommendations change for my kids? Sun protection for kids and teenagers is super important! It is well documented that sun exposure in childhood is a risk factor for developing skin cancer as an adult. Per the American Academy of Pediatrics, it is best to use other sun protective methods first (shade, sun protective clothing, hats) with broad spectrum sunscreen applied on skin that is still exposed. Sunscreens with UV blocking active ingredients titanium dioxide and zinc oxide are recommended for children under two years old.
If you are interested in having a skin cancer screening or would like to have a concerning lesion evaluated, our board-certified and experienced dermatologists at IHA Dermatology are always happy to help in any way that we can. Just call us at 734-667-DERM (3376) to schedule an appointment.