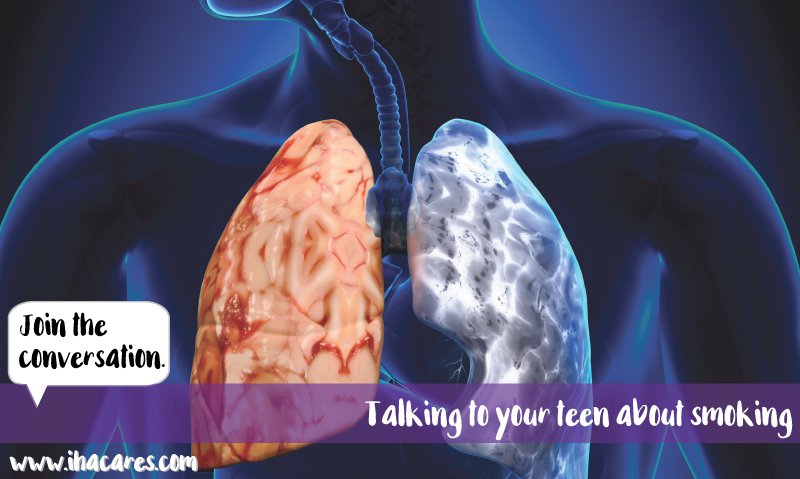 Did you know that every day nearly 3,800 people younger than 18 smoke their first cigarette? According to the Department of Health and Human Services 2,100 youth who are occasional smokers become daily smokers every single day.
The harmful effects of nicotine in teenagers and young adults creates an important call to action for parents. Don't wait to start the conversation about the hazards of smoking. If you yourself are a smoker, seek help to quit. 5.6 million children alive today (or 1 in every 13 children) will die early from smoking if we do not do more to reduce current smoking rates.
It may be a tough topic to talk about but it's an important topic. Teens may be more concerned with the immediate impact smoking has on their lives than they are with their health in the future. Emphasize the immediate negative impacts. Remind them that:
Smoking around friends or siblings can be damaging, as secondhand smoke is known to be harmful. (Half of all children between ages 3 and 18 are exposed to cigarette smoke regularly).
Teens who smoke tend to be sick more often than their non-smoking peers, and may develop lung problems or have more asthma attacks. If your child is an athlete, this can harm their athletic performance.
Smoking has a negative effect on their personal appearance (bad breath, yellow teeth, wrinkly skin).
Smoking may lead to the use of alcohol and other drugs.
On the positive end, there are healthier ways to shine within a peer group, by saying no or through unique interests or hobbies. Also remind them about the long-term effects:
Tobacco use is the single most preventable cause of death in the US and in the world.
Smoking is well-known to cause heart disease, cancers and stroke.
Smoking decreases life expectancy.
Nicotine has negative effects on brain development which could have lasting effects on memory and attention.
Remind your child that smoking includes e-cigarettes and hookahs. Both have some of the same dangerous effects as cigarettes. Starting the discussion about smoking when your children are young and continuing it through their high school years is important. You, as the parent, are a role model and the greatest influence on your children's lives. Set a positive example by quitting smoking if you currently smoke.
They will need consistent reinforcement, support and guidance. Knowing if your children's friends smoke is important. You may be able to help them practice ways to say no. For example "No thanks – I'm good" or "Gross! Those things stink!"
Help your children understand that TV shows and movies may make smoking look "cool" when in reality it's very harmful. Remind them it's much harder to quit smoking than it is to start in the first place. Tell them stories about family members with health problems related to smoking, make it real.
Talking about smoking with your children may seem challenging, but it's important. If you have questions, ask your child's doctor for information that may help kick-start or continue the conversation.