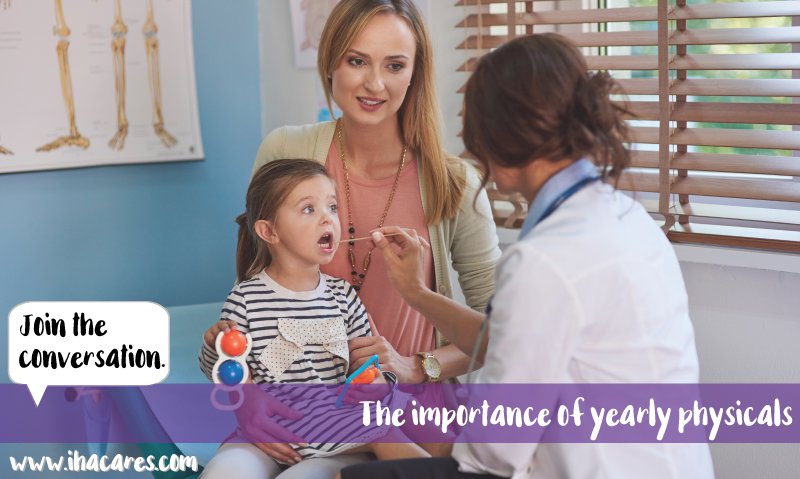 As pediatricians, we are frequently asked why a child needs a yearly physical, even if they seem perfectly healthy. At each well visit, your provider will ask questions, examine your child and discuss any recommended vaccines. At each age milestone, different screening tools and tests may be recommended in addition to the traditional physical exam.
Children are constantly growing and a lot can change in a year. We measure height and weight to ensure adequate growth. We plot these measurements on a growth curve which shows projected growth patterns. Variations in this curve can indicate nutritional deficiencies, hormone deficiencies, as well as other major medical problems.
Between two and six-years-old, children grow at a faster rate than almost any other time during their development. During this time, we can monitor their growth rate, size, weight and blood pressure to help determine if early action is needed to combat issues that may arise later in adolescence. Children who are overweight at age five have a much higher percentage of being obese in adolescence and later in life.
When your child hits the "tween" age, around eight to 12-years-old, growth patterns and timelines for development can vary. Because your child is starting toward puberty, getting a yearly physical can help us prepare them (and you!) for hormonal changes as well as other physical and emotional changes that occur during these times.
These yearly physicals allow us an opportunity to address important topics such as ways to ensure your child's safety, healthy sleep habits, goals for adequate nutrition and more. Through these visits, we work to identify any physical, emotional, developmental or social concerns and begin to address them. The "sick visit" is a time to address an acute illness or check in on an ongoing specific condition. In contrast, the well visit (or physical) is a time for the provider to do a more thorough evaluation. It also gives the patient, family and provider an opportunity to work together to ensure quality overall health.
Additionally, if your child plays a sport, the state of Michigan (MHSAA) requires that students receive a physical AFTER April 15, 2017 in order to play sports in the 2017-2018 school year. Act now to schedule your child's physical for this spring/summer. You can schedule online or by calling your child's office. We look forward to seeing you!